Why has the American South seen accelerating COVID-19 cases in summertime?
Earlier this spring, scientists were asking a crucial question -- will the coronavirus epidemic follow the same course as influenza, and simply die out as we move from winter to summer? There are good reasons to hope that would be the case, and an excellent 2007 review article on influenza seasonality evaluates the many factors that may be involved.
However, as we enter July, new infections within the United States continue to increase -- particularly in Southern states. Compare the number of new cases in New York versus Florida, for example.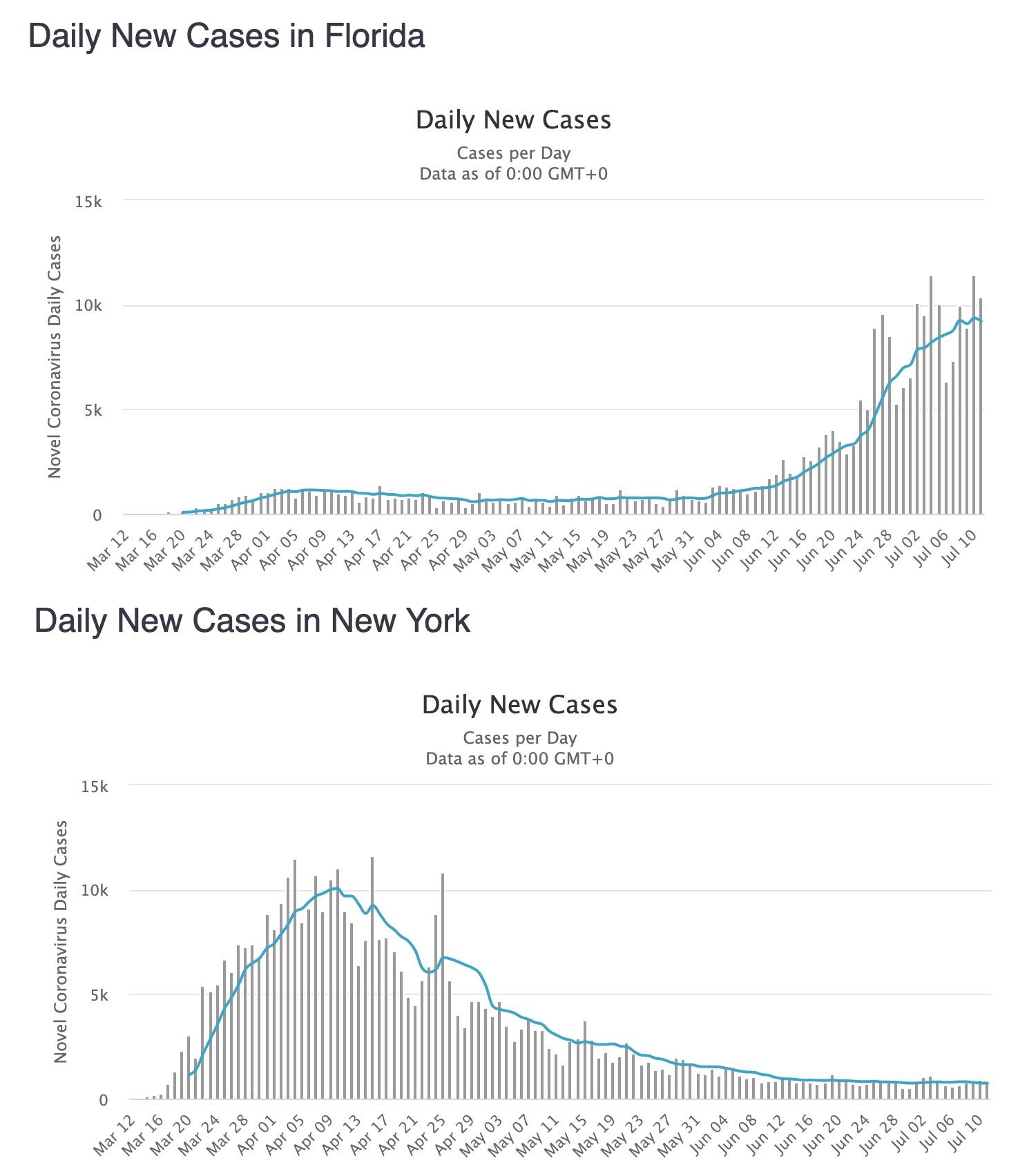 What can we learn from this information, and how can we help keep our families safe?
Consider an important paper entitled It is Time to Address Airborne Transmission of COVID-19 published last week in the journal Clinical Infectious Diseases:
Hand washing and social distancing are appropriate, but in our view, insufficient to provide protection from virus-carrying respiratory microdroplets released into the air by infected people. This problem is especially acute in indoor or enclosed environments, particularly those that are crowded and have inadequate ventilation relative to the number of occupants and extended exposure periods. For example, airborne transmission appears to be the only plausible explanation for several superspreading events investigated which occurred under such conditions, and others where recommended precautions related to direct droplet transmissions were followed.
Up to this point, organizations like the World Health Organization have maintained that COVID-19 is spread through close contact with infected people or objects, and that respiratory aerosols are only an issue with "aerosol generating procedures" in healthcare institutions.
Perhaps as a result of this paper, the WHO has just updated its guidance to recognize the possibility of more general airborne transmission.

So what happens in the American South as the weather heats up? We crank up the air conditioning. This recirculated indoor air offers comfortable temperatures, low humidity, and a great way to keep viral particles viable and concentrated in a small area.

We've already discussed how important it is to minimize the dose of viral particles to which you are exposed. When you must be inside a public air-conditioned building, consider wearing a mask that offers protection against inhaling viral particles.
Otherwise, spend some time outside in the fresh air and sunshine's disinfecting ultraviolet rays -- both of which combine to dilute and inactivate viral particles. Even if it's hot outside, consider opening up the house and turning on fans to increase ventilation.
William (B.J.) Lawson, MD
Co-Founder of Easy Masks